Know a
Mermazing
Girl that
Loves
Mermaids?

Does she prefer to be under the sea, or at least in the bathtub under a ceiling of bubbles?
Mermaid Mania is a real thing. Girls age 0 to well, Ursula, are wishing they were tailed and scaled.
We have the Ultimate Mermaid Gift Guide for you and your pearl of a girl.
Our exclusive Mermaid Princess design is …available in a variety of hair and skin color and made extra special with your Little Mermaid's name and your choice of message. Check out our popular African American Mermaid.
This design can be applied to the majority of our classic furniture and décor items to adorn any mermaid nursery or mermaid themed bedroom.
A Mermaid
Birthday Gift
Just for
HER!

Below are our Top Ten Mermaid Gifts for Girls
Help your Little Mermaid Make a SPLASH!!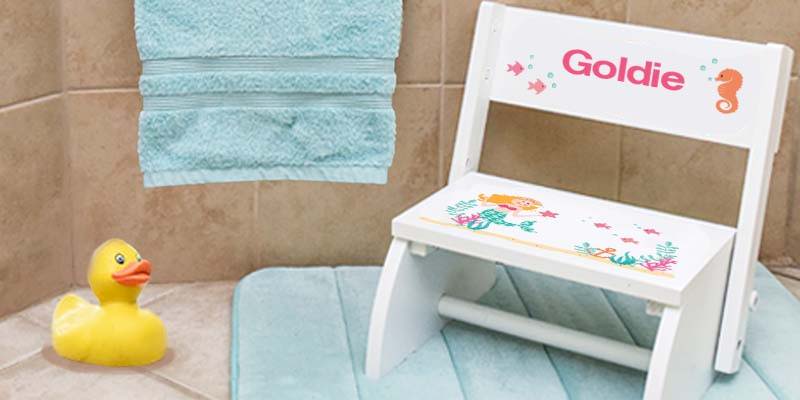 Look at this stuff. Isn't it Neat?

Personalized Mermaid Pillowcase   - Personalize this super soft pillowcase with their name and sweet affirmations (optional). Available in two sizes – Large for full sized pillows or Small for travel, toddler, crib sized pillows. Machine washable and dryable. See below for a list of sample Mermaid Quotes.
Personalized Mermaid Growth Chart - Save the wall and the memories with this personalized white Mermaid Growth Chart. Children scamper to see "how big" she is, and parents will embrace the memories long after they swim away.
Personalized Mermaid White Flip Stool - Help your little mermaid into the bath or bed with Personalized Mermaid Flip Stool. A great Mermaid Baby Gift and the ideal first birthday gift for toddlers. Hinged back folds down, converting toddler seat to a step stool. Real wood but light enough for child to transport between bedrooms, kitchens, and bathrooms. Measures 12" x 12" x 6" - seat is 5 1/2" from floor.
Personalized Mermaid Placemat - Kick start their meal their very own Personalized Mermaid Placemat. Laminated placemat adds delight to mealtime and eases cleanup. Measures 18" x 12".
Personalized African American Mermaid Ballerina Jewelry Box - just like the one you had as a little girl. Featuring an African American ballerina inside and our exclusive African American Mermaid design on top along with her name. Blonde interior ballerina also available. The interior is a soft pink, with a mirror and a ballerina that spins when wound. Plays "It's a Small World." Measures 6" x 4 1/4".
Personalized Mermaid Rocking Chair - personalized Brunette Mermaid Princess White Children's Rocking Chair makes a wonderful toddler or baby gift. Sturdy construction and beautiful design come together to form a traditional staple of any child's nursery or room. Measures 28 1/5"H x 18"w x23"d.
Personalized Mermaid Jewelry Amoire - Bring sparkles to her eyes with this beautiful Custom Jewelry Chest. Features three drawers and a spacious side compartment housing a nifty necklace carouse. Let our team of create a special gift with your choice of name and design. Measures 9" x 7 1/4" x 3 1/2".
Personalized Mermaid Tub Time Gift Set - Tub Time! This ensemble makes a great and complete gift for newborns and toddlers. There will be a lot of baths those first few years, equip them with the essentials. Set includes our popular Fixed White Step Stool that will assist them in the tub, to sink and boost them other places in the house for years to come. Terry Bath Towel is monogrammed to match and will serve the little one at home and out - pool, beach, camps, sleepovers. Personalized door hanger announces that Bath Time is in session.
Personalized Hand Painted Mermaid Piggy Bank – A timeless classic but also our #1 gift! This Adorable ceramic piggy bank is available in three sizes. All have coin slots on top and rubber plugs on the bottom. We customize with your choice of name and design. All Paint Certified Lead Free!! Small 4 1/2" x 4 x 3 1/2" Large 8" x 7" x 6" Jumbo 10" x 9" x 7".
Personalized Printed Pink Mermaid Piggy Bank - A penny saved is a penny earned. Our MyBambino personalized pink piggy bank with Blonde Mermaid Princess design is customized with your child's name both front and back. Coin slot on top takes folded dollar bills too. Removable plastic plug on the bottom for early withdrawals. Measures 8.75"l x 7"h x 4.25"w.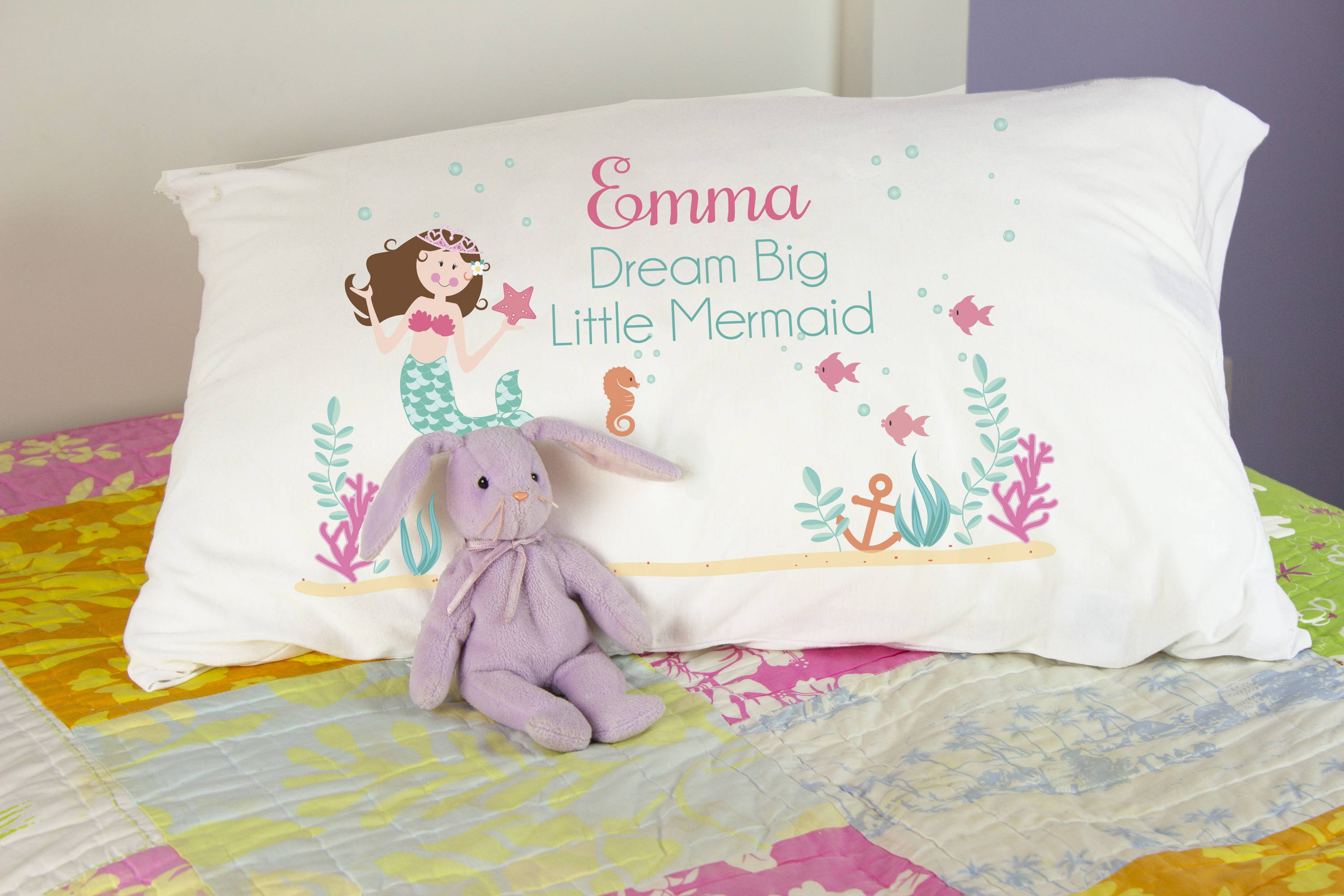 Mermaid Kisses & Starfish Wishes
A Mermaid Sleeps Here
Sweet Dreams Little Mermaid
Dream Big Little Mermaid
"We got no troubles. Life is the bubbles, under the sea."
Let's be Mermaids
Be a Mermaid in a sea of Fishes
May you always have a shell in your pocket and sand in your shoes
If you can be anything, be a Mermaid
I want to be a mermaid when I grow up
Mermaid Hair – Don't Care
"Mermaid: A sea woman who chooses Imagination over Fear"
"Dive deep for the treasure that you seek"
"The oceans roar is music to the soul" ~ Unknown
"Who says that my dreams, have to stay, just my dreams?" ~ Ariel, The Little Mermaid
Mermaid at Heart
"You are not a drop in the ocean. You are an ocean in a drop." ― Joy N. Hensley
"You can't cross the sea merely by standing and staring at the water."
Personalized Gift Making "Holiday Style"
Top Gifts for incoming Quarantine Babies
---
Make beautiful moments even more memorable
Sign up to hear about the latest news and exclusive offers