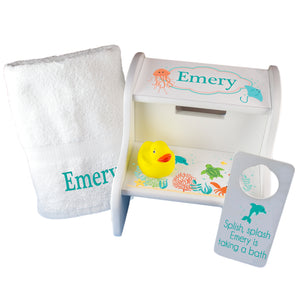 Personalized Tub Time Gift Set
SKU:
TUBT
Regular price $89.99 Sale
Tub Time! This ensemble makes a great and complete gift for newborns and toddlers. There will be a lot of baths those first few years, equip them with the essentials. Set includes our popular Fixed White Step Stool that will assist them in the tub, at the sink, and boost them other places in the house for years to come. Terry Bath Towel is monogrammed to match and will serve the little one at home and out - pool, beach, camps, sleepovers. Personalized door hanger announces that Bath Time is in session. Dozens of designs to choose from. The door Hanger and Towel monogram will be coordinated to match your design choice. The stool is constructed of sturdy MDF, painted white, and personalized with in permanent non-toxic inks. The stool measures 10 3/4"H x 11"W x 12". The top step is 10 inches from the floor. For Indoor Use Only! Towel is 9lb. combed cotton terrycloth and measures 24" x 48". Door Hanger measures 9 1/2" x 4" and fits over round and french door handles. Set is a $130+ value.