These Baby Shower Games will be sure to make your party a blast!!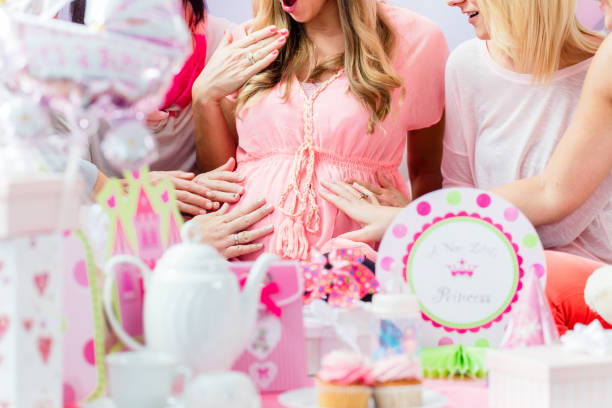 Are you looking for personalized baby gifts for expecting mothers to be? Find unique gifts and more at My Bambino! Planning a baby shower has never been easier. We offer fun baby shower game ideas to play with your group. Please feel free to use our games, or if you have suggestions - we would love to hear them! Contact us and share your ideas. Find personalized gifts, including piggy banks and rocking chairs and other baby shower ideas that are sure to make your party a hit!
• How fast can you drink from a baby bottle?
Think it's easy? This game is a lot harder than it looks. Take four or five volunteers from the party. Fill four or five 4 oz. baby bottles about a quarter full with juice or water. Hand each one of the contestants a bottle, and say drink. Who ever finishes the bottle first wins!
 • How big is Mom's belly?
This game involves the whole party. Ask guests to tear toilet paper off a roll that they think will match closest to the size of the mother-to-be's stomach, if it were wrapped around her. The one who tears of the right length or closest, wins.
• Dirty Diapers (Top baby shower game pick)
Take a napkin (one per guest), fold the napkins resembling a diaper and secure with a diaper pin. Attach the "diaper" to the bottom of each guests seat in advance. Place mustard or chocolate in one. Have everyone at some point during the party reach under their chairs. The one with the "dirty" diaper wins a prize.
• Can you guess the baby food?
This free game involves getting five different kinds of baby food. Take the labels off the jars and mark the bottom of the jar with a number 1-5. Set them down in an area where guests can examine and smell them. Have everybody write down what type of baby food they think is in each jar. The guest with the most correct answers wins this baby game.
 • Guess what baby items are in the bag?
Place 10- 15 commonly used baby items in a large paper bag. Give each guest a pen and a sheet of paper. Let each guest stick their hand in the bag, touching the items, without looking. After each guest has had their turn, let them write down as many items as they can remember on their sheet of paper. The guest with the most correct answers wins!
• Can you guess the Baby Animal?
Make a list of animals and the names of their young. For example, a tadpole that hasn't yet grown legs is called a polliwog, and a young pig is called a shoat. Have your guests work in teams to guess the names of 10 or 15 different animal babies.
What's your favorite baby shower game?
Share your ideas with us! We always love new ideas.