Books - the gift that last long after they have grown out of those adorable 6m onsies. Book theme baby shower and gifts are the trend and for good reason, they are Sentimental, Educational, Entertaining and Decorative. We have the perfect personalized "gift basket" to hold those books and decorate the nursery.
How to Create a Personalized Book Caddy Gift Basket Centerpiece
Decorative, Stylish Gift that is Practical, Useful, Sentimental, and Educational!
For this project you will need the following:
Personalized Book Caddy - SHOP BOOK CADDIES

Books & other basket goodies to create a great gift. We offer many suggestions and themes below.

Clear or Colored Cellophane - available on rolls. 31.5 in. x 110-220feet, 3 mils. Fabric tulle also works very well.

Cellophane Tape

Scissors

Ribbon - fabric or curling in the colors of your choice

Basket Filler (optional) - raffia, tissue paper, or polyfill

Helium Balloons (optional)

Rubber Bands

Second set of hands are often useful when doing the cellophane wrap
100's of themes to choose from
Ask party guests to bring a favored children's book, inscribed with well wishes. Place these books in a Personalized Book Caddy on the gift table.
Children's Book Theme Baby Shower Birthday Party
DIY Baby Shower Gift Basket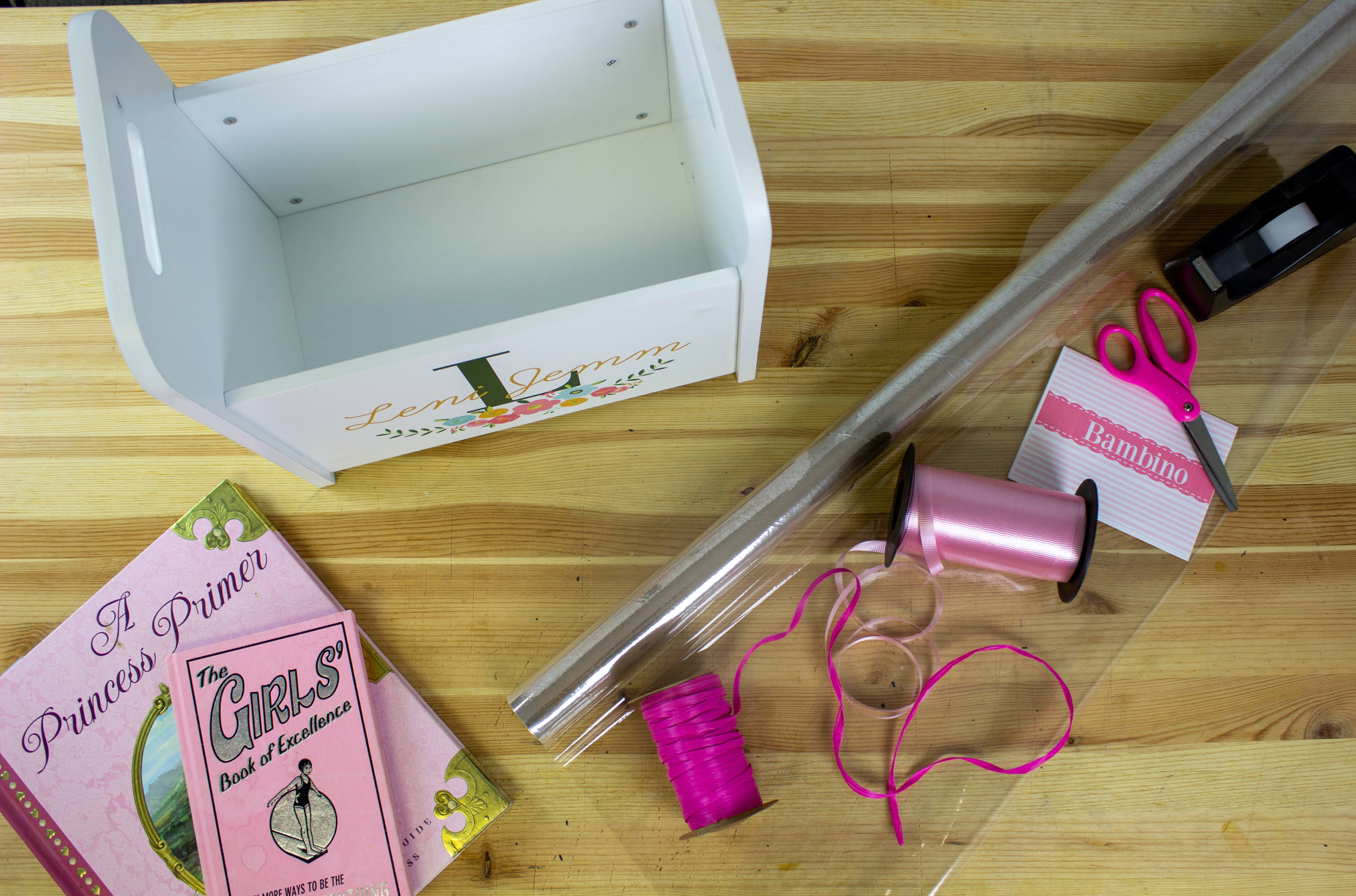 Book Themed Baby Shower Decoration
How to Create your Book Gift Basket
1. Assemble the Book Caddy.
2. Cut two sheets of cellophane at least 4 feet in length.
3. Place cellophane on a flat surface, crossing in the center.
4. Place assembled Book Caddy in the center of the cellophane with the name side facing out.
5. Arrange goodies in and around the Book Caddy.
Books can be placed in Book Caddy - largest in back to smallest in front.

Plush animals can be draped over the side, set in front or propped up on styrofoam cubes or boxes to be seen over the sides.

Bibs, blankets and clothing can be displayed draped over the side or folded in front or on the sides.
3. Arrange cellophane
Pull cellophane up on all four sides. This requires a delicate hand as the cellophane tears easily.

Gently tug cellophane up creating folds where neccessary.

Use clear tape to seal any gaps.

Cinch together above highest point of the basket/goodies.
4. Secure gathered cellophane.
It can then be secured with a rubber band or if you have an extra set of hands, ask your helper to hold the cinched cello together.
5. Add ribbon.
Tightly tie the ribbon around the neck of the cellophane.

Tie a bow

If using curling ribbon, curl individual strains
6. Attach balloons (optional)
7. Center in middle of the gift or food table for a showstopping focal point.
8. Gift the gift for years of delight
Book Gift Basket Stuffers
BOOKS - Books of all sizes, subjects and reading levels work and a handful of great books added to the Book Caddy is a complete and Super Awesome Gift. Some of our favorite children's books are listed below.
Stuffed Animals - A small or medium sized plush animal, doll or hand puppet brings life to the basket
Blankets, Bibs, and Clothing - These soft goods are useful and make a great addition. Fold the item so any design is showing, especially if it matches the theme.
Baby Toys - Rattles, teethers, pacifiers, blocks, etc.
Gift Baskets for Little Girls
Gift Baskets for Little Boys
Story Book Themed Baby Shower Ideas