Personalized Growth Charts
The Personalized Baby Gift
that Last a Lifetime

Growth Charts are the modern day baby book. With our busy schedules and social media becoming the new family photo album, Natural Wood Growth Charts are the ideal place to quickly record a child's growth, giving a lasting tangible keepsake. A gift that is not just enjoyed and valued by the parents. Children scamper to see "how big" they are, and parents will embrace the memories long after they aren't "pint-sized". This is a wonderful relic to past down to kids once they are grown. It is enlightening to compare their growth against their siblings and eventually their own children.
"The Days are Long but the Years are Fast" – Gretchen Rubin
This special gift is useful, decorative and made extra special once personliazed with child's name. We offer over 200's designs to match room decor and interest. Some designs give the option of adding birth information.
Each measuring stick hangs on the wall and tracks the growth of children between 2 1/2 feet tall and 5 1/2 feet tall. Since the chart easily comes off the wall, you'll have no problem moving it from room to room or home to home. Personalizing one for each child, they can take it with them when they move on their own, and they can compare their growth to that of their children. Our designs go great with any nursery decor. We are constantly updating our design charts with the hottest styles.  
Save the Memories & the Walls
Creative Ways to Document your child's growth
Chart their many milestones

Below are examples of some other fun milestones that can be recorded on
First Hair Cut

First Steps

Number of Freckles

First Lost Tooth

Pediatrician Appointments

Current Nickname

Their Best Buddy

Learned to Ride a Bike

First day of Dance Class

Became a Big Brother/Sister

The height of a best friend, sibling, cousin

1/2 Birthdays

Favorite color, food, book, saying

First words

and whatever events (big and small) that are worth remembering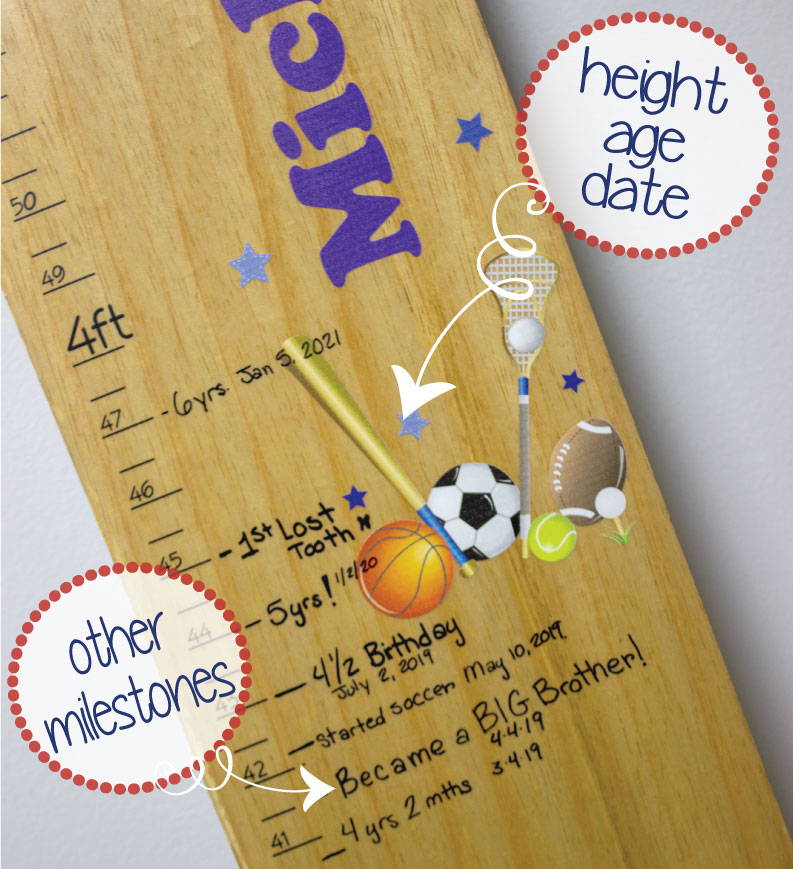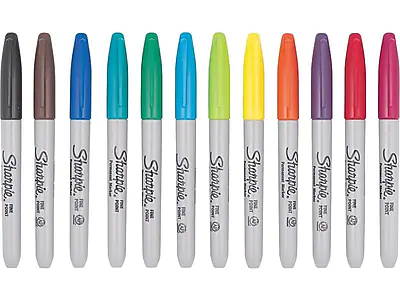 Sharpie Brand is our favorite
Using a permanent marker, now available in a variety of colors, you can mark their height and document other important moments. Sharpie Brand is our favorite.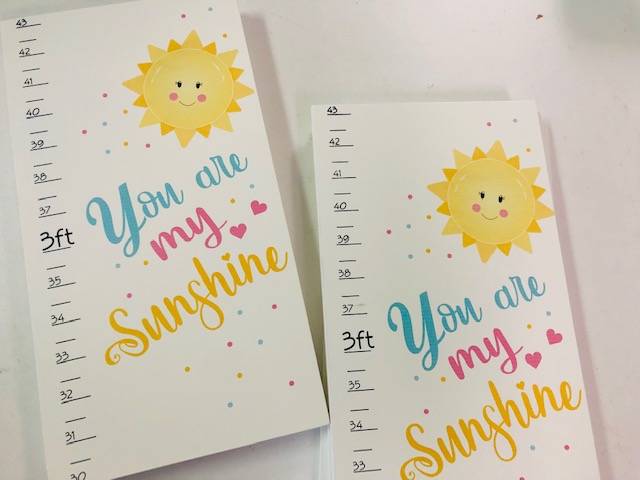 Start recording from birth and before they are standing
Even before a child is standing, you can record how tall/long they are. Their birth stats can be written at the bottom of the growth chart. The back of the growth chart is also a fantastic place to document their birth stats or the measurements from each visit to the pediatrician.
Personalized Wooden Ruler Growth Chart
Any parent knows the conflicting emotions of enduring the many challenges that comes with parenting, of wanting an hour, a tantrum, a stage to "PLEASE quickly pass!" and the grief of mourning a day, an age, a season that you know will never come again, as your child ages out of one stage and into another.
We bumble around with each passing stage trying to figure it out, while simultaneously wanting to etch every phase permanently into our memory, as we recognize what a treasure being a parent is.
Track your children's growth through the years without taking up a lot of space!
Gone are the days of marking a wall or door frame with the growth of all the children in the family. MyBambino's Personalized Wooden Ruler Growth Chart is removable from the wall. This valuable keepsake can be moved from room to room and house to house AND it is collapsible. This precious keepsake can store in 3 parts so can easily be added to a hope chest or memory box.
White Growth Chart for Kids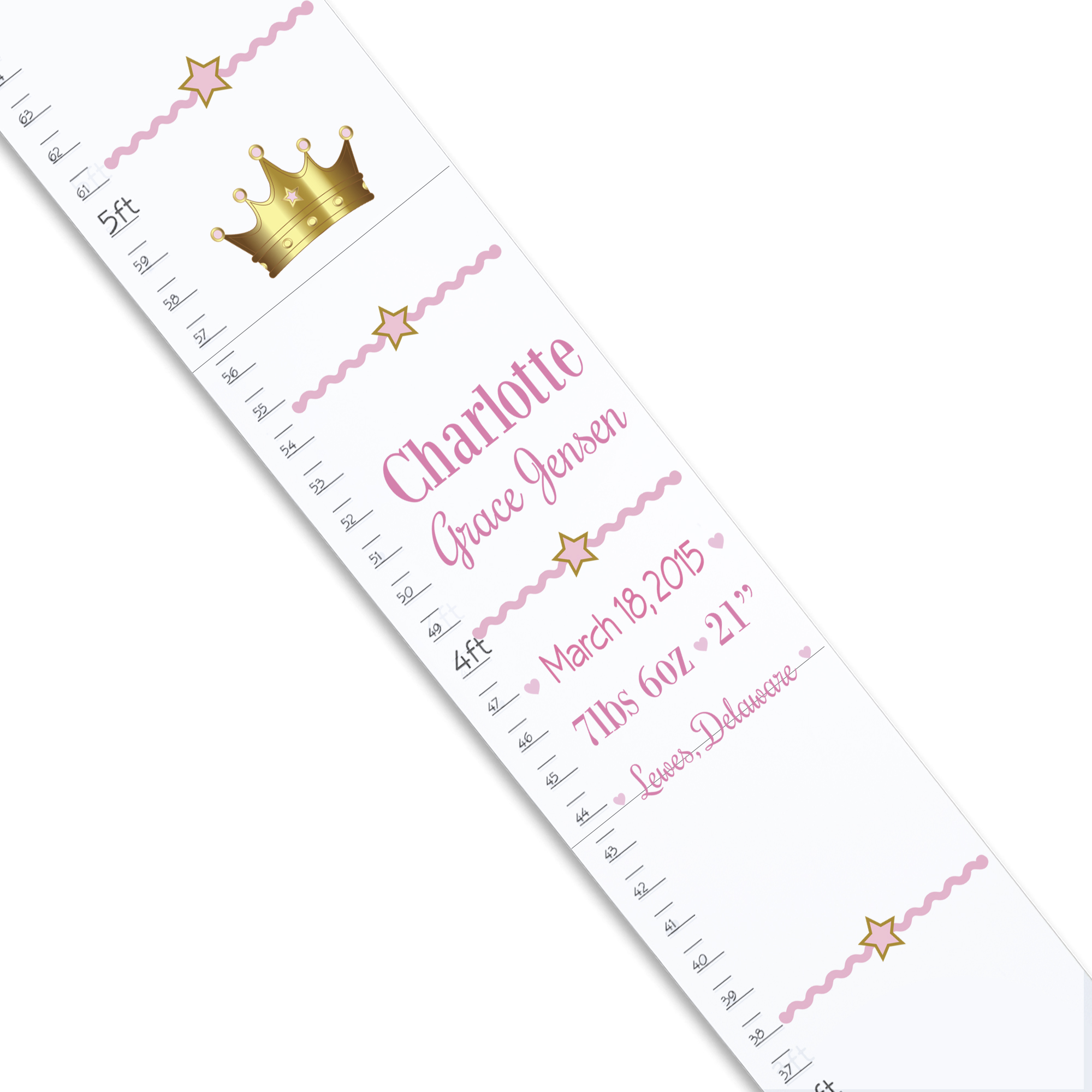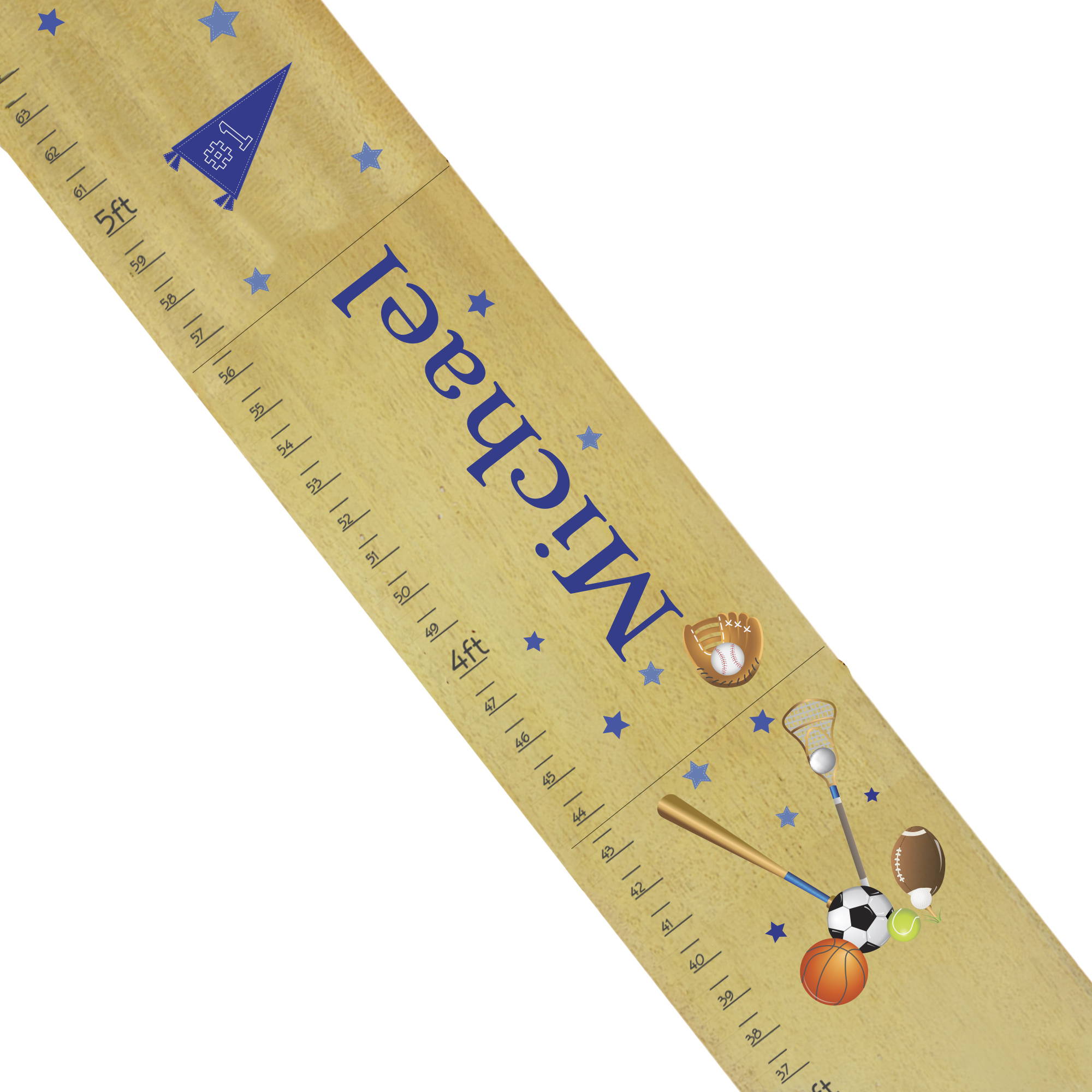 Personalized
Decorative Keepsake
Celebrate every stage of their growth
Watching your kids grow is one of the joys of being a parent. Now you can chart the growth with one our unique, personalized growth charts.
They grow up fast. Chart their height, weight, and other life details. A personalized growth chart is the ideal place to showcase their name and their story.
Are the ideal wall decoration for your child's nursery, bedroom, or playroom. 100's of designs to choose from to match any décor. Trains, Safari Animals, Princess Castles, Sports, Flowers, and so many more themes and designs to match your child's space and taste. See all the options here:
Add their name AND birth stats. Makes the best newborn gift and baby shower gift.
Don't see a design you like? We offer Custom Art for a small fee.
Here are some of the customized nursery measuring sticks we have done: