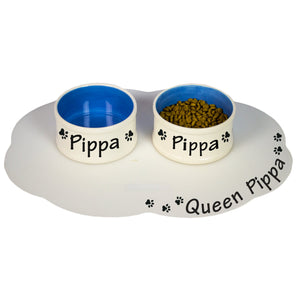 Personalized Pet Set
SKU:
PETSET-SM
Regular price $24.99 Sale
Chow Time for your Fur-Baby and huge savings for you. Our personalized Pet Set includes 2 personalized bowls in your choice of large or small and a personalized placemat to keep the eating area clean. Bowls are thick ceramic with painted blue interior. Small Bowls measure 5" x 2 1/2" and are perfect for cats and small dogs. Large Bowls measure 8" x 3 1/4" for medium to large dogs. We can personalized each bowl with a different name if you have more than one pet or with "Food" and "Water". Plastic placemat measures 17 1/3" x 13" and is transculent white. Specify when typing in personalization information. Names are hand painted with non-toxic permenent paint.
***Disclaimer: Ceramic products are painted on with a quality safe paint pen designed specifically for ceramic products. The sample photo you see when customizing your order shows an electronic font. Please keep in mind that we hand paint on these items, so our hand-lettering will differ slightly from the font sample. Please reach out if you have any questions.***