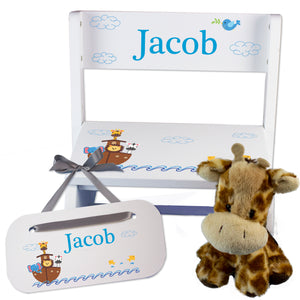 My Corner Gift Set - Noah's Ark
SKU:
STOO-whi-NOAHGS
Regular price $99.99 Sale
Two by Two! A gift set filled with our best sellers, fully assembled, and ready to be loved and used. Set includes our popular Flip Stool in white, a Room Sign, and Plush Giraffe. Stool and room sign are personalized and embellished with our exclusive Noah's Ark design. Flip Stool has a hinged back so it can double as a little chair. The stool is constructed of sturdy MDF painted white. Measures 12" x 12+" x 6+" - "seat" is 5 1/2" from floor. Room Plaque is hanging from satin ribbon (coordinating ribbon can be changed) to adorn the child's door or above crib. Plaque measures 11 1/4" x 5 1/2" (excluding ribbon). Plush Giraffe is of high quality from a reputable company. A $100+ value if bought individually.